About Us
Turning Pointe Dance Studio celebrated its 25th anniversary in 2017! We are the home of recreational and competitive dancers from Erlanger, Edgewood, Kenton County, Florence, and Crestview Hills, KY, beginning at the age of three and up to the age of 19. we offer dance classes in ballet, pointe, tap, jazz, acrobatics, lyrical, contemporary, hip hop and conditioning. Pre-school classes are combined genre classes consisting of ballet, tap, jazz and an introduction to acrobatics. We strive to maintain a positive and encouraging environment while teaching strong technique, determination, discipline and building self-esteem. Contact us today to find a class schedule that is best fit for your dancer!
Tracy Pratt
Owner/Director
Owner/Director of Turning Pointe Dance Studio. Tracy grew up dancing under the direction of her mother Brenda Gronefeld (former owner of Brenda's Studio of Dance for 27 years). Her formal education was through the Preparatory Department at the University of Cincinnati with Jane Green and Mona Williams of the New York City Ballet. With a major in communications she opened the doors of Turning Pointe Dance Studio in 1993. Her enrollment and the studio have flourished causing expansion into the beautiful new studio located in Erlanger. Tracy's students have gone on to hold National Titles, danced on Collegiate Teams, performed in college dance programs, worked for theme parks across the country, received Governors Scholarships, performed on Cruise Lines, modeled professionally and taught dance in other countries as well as here at Turning Pointe Dance Studio.
Jenny Bradley
Instructor/Choreographer
Coming Soon
Mary Ramierez
Instructor/Choreographer
Coming Soon
Jenny Bradley
Instructor/Choreographer
Coming Soon
Diamond Evans
Instructor/Choreographer
Coming Soon
Jhaelin McQuay
Instructor/Choreographer
Coming Soon
Kasey Weinfurnter
Instructor/Choreographer
Kasey has been with Turning Pointe Dance Studio since 2011 and joined the staff in 2014, but has had a passion for dance since the age of three. Kasey has always loved to dance, but has found a true love for teaching and choreographing. Being able to see the growth in children and see her art come to life is her favorite thing. With a background in tumbling Kasey has a found a love for teaching acro. She also teaches multiple teams ranging from primary to advanced competitive. Outside of the studio Kasey studies neuropsychology at the University of Cincinnati and plans to graduate in December of 2018.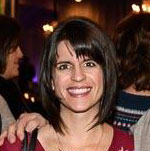 Andrea Sweeney
Instructor/Choreographer
Andrea has been teaching tap at the studio since 2010, but her time at Turning Pointe Dance Studio started many years before that! Andrea began dancing at the Turning Pointe Dance Studio in 1995. In fact, she was a member of the very first Starcatchers Dance Team!
Andrea has trained in many styles of dance but tap is her true passion. She loves being a part of so many children's lives. She vividly remembers how much she looked up to her teachers when she was young and it's such a wonderful feeling to be a role model to so many little girls, young women, and boys! There is something special about having a "dance family" and she has always wanted to continue to have that in her life.
Andrea continues her dance education by going to conventions and master classes with the studio. She is happy that tap is becoming more popular and is excited to share this dance form with students of all ages at the Turning Pointe Dance Studio.
Brandy Jones
Instructor/Choreographer
Brandy has been teaching for Tracey at the studio since 2001 and within her time at Turning Pointe Dance Studio she has taught every age group that we currently have at the studio and currently teaches the Intermediate competitive team.
Before she began teaching she was a competitive dancer at the studio on Tracy's Sr. and Elite Ensemble teams, but that's not where her competition experience began. She began dancing competitively at the age of 10 for her school dance team and once in high school led her team to win many state and national championships, all while dancing competitively for Tracey throughout high school. Upon graduation she realized that her true passion was passing on her gift to the young students coming up in the ranks at the studio and started putting all of her energy into that. She truly loves watching the studio members grow into beautiful dancers and people. She makes it a point to build a special bond with every student that she teaches. Brandy continues to expand her knowledge of dance by attending conventions and competitions with the studio every year. Brandy always says, " it's not just a studio it's a family" and that she wouldn't be the person she is today without the studio, when she's there, she's home!
Heather Shields
Instructor/Choreographer
Heather began her dancing career in Texas where she danced for the nationally and internationally recognized Kingwood Strutters and Kingwood Fillies dance teams. At 16 she moved to Kentucky and joined Tracy and Turning Pointe Dance Studio and has loved every minute since! While dancing for Tracy she received numerous solo and pageant awards and scholarships. Heather graduated from Northern Kentucky University with a degree in Public Relations and a dance minor. While at NKU she had the wonderful experience of learning under Jane Green and Heather Britt and the opportunity to perform in various shows at NKU and the Cincinnati area. Her favorite thing about teaching is watching the girls grow in confidence and develop their own style in a fun positive environment!